Hi-Quality Scanner, for legal size books
Space-saving
Easy to use
Canon Support
Virtually out of the box ready
Perfected Light Design
Powerful Software Suite
Space-saving
Easy to use Virtually out of the box ready
Description
BookDrive Mini is the most affordable and easiest to use model of the successful BookDrive line of scanners. BookDrive solution solves typical problems found in overhead scanners: page curvature, damage to book spine, and low productivity.
The BookDrive uses a different approach called a V-shaped solution. The combination of a V-shaped book cradle and a V-shaped platen holds the book open at a non-stressful 100 degree angle for scanning by two hi-speed, hi-resolution DSLR cameras.
Our affordable scanners are responsible for scanning over 3 million books and are currently being used by some of the most prominent academic libraries, universities and museums around the world.
Key advantage
New generation scanner, compact and easy to use
Virtually out of box ready
Support scanning up to 2 x Legal
Extra ergonomics and comfort
Convenient camera positioning
Support Canon camera
Auto capture switch optional for scanning with out pushing buttons
Lighting Configuration
Bright illumination yet comfortable to operator
Extra uniform light distribution makes your image well, even lit
Glare-free r
Compatible Cameras and Lenses
Canon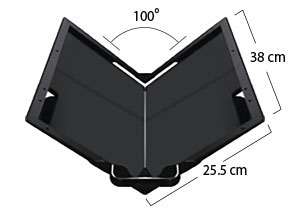 Cradle Dimension
25.5 x 38 cm (10 x 15 inches)
5.5 cm
Product Dimension
57 x 38 cm (22.4 x 15.0 inches)
61 x 87 x 77 cm (24 x 34 x 30 inches)
68 x 85 x 55 cm (27 x 33.5 x 22 inches)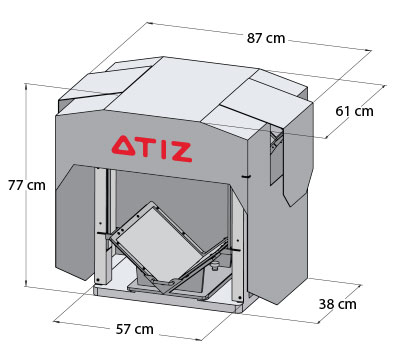 Box Packaging
85 x 68 x 55 cm (33 x 27 x 22 inches)